I dread the cold, dark winter nights. So, I'll do anything to add some cheer and warmth to my home and I suspect you'll do the same.
Adding solar garden lights to your yard can be one simple but effective way to not only beautify it but also add that warmth and glow to your home too.
Sounds good alright, but how well do solar garden lights work during winter?
Is it even worthwhile keeping them out there? Or should you instead store them safely indoors?
If you'd like to know how well the solar lights perform in winter and whether to move them indoors or just switch them off during the winter then read on.
How Well Do Solar Garden Lights Work?
Unfortunately, but not as well as during the summer or spring when they receive the most hours of sunshine. So, yes they'll work but they're likely to only light for a much shorter time, certainly less than the 8-12 hours they usually light for during the summer.
This is not surprising given that sunshine hours during winter may be as few as 3.5 in some places in the US.
Yet, many solar garden light manufacturers recommended about 5-6 hours of direct sunshine for the lights to work for 8-12 hours depending on their specific design!
Tip: If your solar garden lights have a low light mode, switch over to it.
They give off less light this way about 10 lumens instead of 25 lumens but light for longer!
As you can see from the graphic below, sunshine hours vary depending on where you live in the US.
So how long your batch of solar garden lights light for during winter will be different for different locations.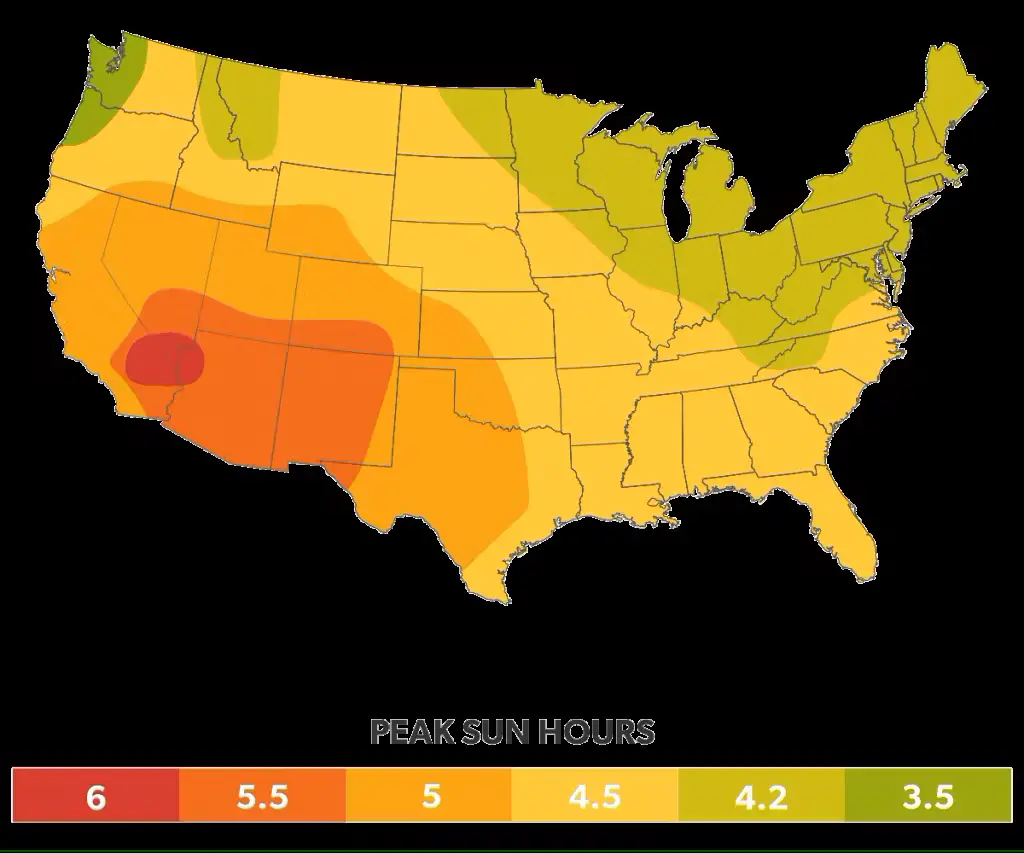 Source: Unboundsolar.com/solar information
Should You Leave Them Outside?
What you should do depends on the quality of lights you have and how long the stakes for mounting them in the ground are in my opinion.
Good quality solar garden lights with an IP65 or IP67 rating, properly mounted above the snow can work well albeit will light for a shorter than usual duration because of the fewer sunshine hours.
You can leave them installed in the ground – no problem.
These sturdy, quality lights are made from sturdy materials such as stainless steel for the body and are protected from rust with a glass lampshade to withstand sunshine, rain, or winter.
And if the stakes are long enough to lift the garden light fixture above the ground then you should be able to use them thought out the winter without a problem.
Note, while they may withstand instances of severe weather, they'll likely stand no chance against flooding.
Remember to remove any snow that may be covering the solar panel.
It should receive as much sunlight as possible for the lights to work longer!
Given that solar garden light designs vary, consult the user manual for your particular model of solar lights whether they're suited for use in areas exposed to rain and/or snow.
Is it Advisable to them Switch Off in Winter?
I'd recommend turning them off if they're only lighting for a few hours to guard against severe battery drain which can damage the battery.
Turning the light off allows the solar panel to fully charge the inbuilt battery. This may require several days of charging during winter.
This has the benefit of keeping the battery fully charged and lasting longer!
Closing Thoughts
Well-built solar garden lights can withstand the winter. Make sure they're properly installed and sufficiently clear the snow level though.
Expect them to light for fewer hours during winter than during spring or summer when there's more sunshine available.
Recommended Posts